HOUSTON IMMIGRATION & NATURALIZATION ATTORNEYS

HOUSTON B-2 VISITOR For PLEASURE VISA ATTORNEYS & U.S. CONSULAR B-1 APPLICATION LAWYERS
Assisting Clients Obtaining B-1 & B-2 Visitor Visas & Filing Extensions In The U.S.
B-1 and B-2 Visitor Visas, Generallly:
Foreign nationals who wish to visit the U.S. can obtain a B-1 and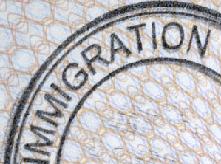 B-2 visitor visas. B-1 Visas are for those that visit the U.S. for business purposes and B-2 Visitor Visas are for those that wish to visit the U.S. for pleasure. B-1 and B-2 visas are applied with the Nonimmigrant Visa Attache Unit located at the U.S. Consular Office closest to the applicant home town.  B-1 Visitor Visa For Business and B-2 Visitor Visa For Pleasure are issued jointly as "B-1/B-2" visas and can be for a one-time entry visa or for multiple entries, valid up to 1 year, 3 years, 5, years, and sometimes up to 10 years.  Upon entry, the foreign national will be issued an I-94, which authorizes the foreign national to stay in the U.S. up to 180 days (a little less than 6 months).  However, the authorized stay may be much less, such as 30 days, depending on the purpose of the visit and the intended duration in staying in the U.S. Within the authorized period, the person must leave the U.S. or by filing an extension application with the USCIS.


B1 Visitor Visas for Business are reserved for individuals to seek to enter the U.S. for purposes of attending business meetings, conferences, conduct negotiations, purchase or sale of a business, to research on an investment or to make such an investment, providing expertise in a research or consultancy, or to participate in a conference as an attendee or a speak of such an event.  While visiting in the U.S., a B-1 visitor may not be paid by a U.S. employer, but may still be paid for services for a foreign affiliate company (please see below).  In addition, the visitor may not "work" for any U.S. employer, run any business, actively searching for a job in the U.S., or participating in a sporting or entertainment event.


B2 Visitor Visas for Pleasure are intended for foreign nationals who want to come to the U.S. for vacations and to visit friends and relatives.  The Like a B-1 visitor, the B-2 visitor for pleasure may not gain employment or search for employment while in the U.S.  In addition, as in most other nonimmigrant petitions, the B-2 visitor for pleasure must demonstrate that the person does not have immigrant intent and intends to leave the U.S. at the conclusion of visitation.  The failure to show that one does not have an immigrant intent is the main factor for the denial of the majority of B-1 and B-2 visitor visa applications
Can a Person Work Under a Visitor Visa?
In some very limited circumstances, a B-1 Visitor may obtain employment while in the U.S.  The foreign national must, (1) be an employee (not contractor) of a foreign company who is affiliated with the U.S. company; (2) the job must be a "specialty occupation" that usually qualifies under H-1B; and (3) the foreign national must meet all requirements as an H-1B candidate in terms of skills and experience for that job; and (4) no payment must be received from the U.S. company. 


What Is The Application Process For a B-1 and B-2 Visitor Visa?
After a detailed concultation with an experienced Houston B-1 and B-2 Visitor Visa Attorneys or with a Houston Consular Visitor Visa Lawyer at the Law Offices of Steven Tuan Pham., our attorneys will prepare and send you a list of documents that are required. Each application is unique based on the fact and circumstances in which you seek to enter the U.S. We may need your affidavit, as well as that of a sponsor, and state the reasons for your visa application. In addition, you will need documents to overcome the presumption of "immigrant intent" by the U.S. Consular Officer. Because of the nature of visitor visas, many foreign national have obtained entry and intended to stay permanently. The U.S. Department of State (Consular Officer) will presume that all nonimmigrant visa applicants, including visitor visa applicants, have immigration intent. As such, it is the applicants must overcome such presumption. Our experienced U.S. B-2 Visitor Visa Attorneys have assisted a number of clients to overcome such presumption and successfully obtain visitor visas, valid up to 10 years.
Once all proper documents are recieved, our Houston Visitor Visa Lawyers will prepare a detailed cover letter, sometimes up to 7-8 pages, detailing requirements and how you are qualified to obtain a visa. Our immigration attorneys will also prepare an exhibit package that contains documents presented in an organized fashion. The cover letter (brief) will refer back to these exhibits as evidence in supporting your application. Furthermore, our lawyers will prepare and file form G-28, certifying that we represent you in your visa application. As such, should the U.S. Consular has any concern, they can contact our U.S. immigration law Office directly and resove any such issue. Should you have any questions regarding preparing or filing a B-1 or B-2 visitor visa, you are invited to contact the Houston Texas B-1 and B-2 Visitor Visa Lawyers at the Law Offices of Steven Tuan Pham. for a personal consultation. 




DISCLAIMER


Immigration Law is a vast area of law and requires an immigration attorney with years of experience to understand the intricacies of the Immigration & Naturalization Law. In addition, the U.S. Consular Offices are keen to scrutinize the foreign national's "immigration intent" for non-immigrant visas, especially visitor visas. Please contact the Houston Nonimmigrant Visa Attorneys and the Houston B-1 B-2 Visitor Visa Lawyers to ensure proper documentations to show that the foreign national does not have the presumed "immigrant intent." Please callthe Houston Immigration Attorneys and the Spring Texas B-2 Visitor Visa Immigration Lawyers at the Law Offices of Steven Tuan Pham. today at 713-517-6645 or complete our Contact Form.
Serving Clients in Houston, West Houston, Southwest Houston, Sugar Land, Katy, Copperfield, Memorial, Spring, Northwest Houston, Northchase, Spring Cypress, Champion Forest, The Woodlands, Kingwood, Humble, Lake Houston, Midtown, Memorial, West Oaks, Royal Oaks, Clear Lake, League City, Westchase Business District, Harris County, and Galveston County.