HOUSTON IMMIGRATION & NATURALIZATION ATTORNEYS
HOUSTON O-1 VISAS FOR SCIENTISTS & TEACHERS & U.S. O-1 VISA FOR ENTERTAINERS, ATHLETES, & RESEARCHERS
Assisting Clients Obtaining O-1 Visas With USCIS or Through U.S. Consular Processing
General Information Regarding O-1 Visas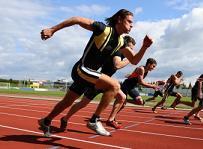 O-1 Visas are reserved for applicants who have extraordinary ability in the sciences, arts, education, business, or athletics, or those that have achieved extraordinary awards and recognition in the motion picture and television industry. O-1 Visas are approved for an initial 3-year period and can be renewed once a year for a 1-year period. To qualify, the person must demonstrate that he or she has risen to the level of national or international recognition by providing evidence of some national or international award. In lieu of such award, the applicant must have at least 3 of the following:
Evidence of the applicant's receipt of nationally or internationally recognized prize or award for excellence in his field;

Evidence of the applicant's original scientific, scholarly, or business-related contributions of major significance;

Evidence of the applicant's membership in one or more associations in the field of classification, which require outstanding achievements of their members, as judged by recognized national or international experts in their disciplines or fields;

Evidence of the applicant's participation on a panel, or individually, as a judge of the work of others in the same or in similar field of specialization of the classification;

Evidence that the applicant has been employed in a critical or essential capacity for organizations or entities that have distinguished reputation;

Evidence of published material in professional or major publication or major media about the individual, relating to the individual's work in the field for which classification is sought. Such evidence must include the title, date, and author of the published material, and translation if necessary;

Evidence of the applicant's authorship of scholarly articles, books, publications in the field of expertise, in professional journals, or other major media.
Although it is not necessary that the O-1 Visa Applicant has all of these credentials, it would be helpful to obtain as much as possible. However, as stated above, in lieu of international recognitions, such as in cases of outstanding athletes, entertainers, and performers, applicants must have at least 3 of the above credentials. In addition, the applicant must also obtain an advisory letter from a professional organization within his or her field, certifying that the Applicant's level of knowledge and recognition is as someone with extraordinary abilities.
Application Procedures For O-1 Visas
Because of the extensive requirements stated above, the Houston O-1 Visa Attorneys for Researchers, Athletes, Professors, Entertainers, and Performers must have sufficient time to prepare your application. The following application guideline is to assist you to work with one of our Houston O-1 Extraordinary Ability Visa Attorneys and develop a strategy for your individual application.
The Houston Texas O-1 Visa Attorneys at the Law Offices of Steven Tuan Pham. will meet and consult with the applicant in our office to determine whether the intended employee qualified under an O-1 Visa for Outstanding Researchers, Athletes, and Entertainers.

A Partner and one or more of our Houston Immigration Lawyers at the Law Offices of Steven Tuan Pham. will visit the employer, HR executives, and hiring managers onsite to answer any questions or concerns, as well as to assist the employer in obtaining required documents for such application. At Veritas, we believe that effective representation requires the attorneys to understand our client's products, services, and line-of-business. As such, it is essential for our attorneys to have the ability to meet the hiring managers and executives, as well as human resource personnel and develop a strategy that benefits both the employer and the applicant.

If necessary, our Houston O-1 Visa Application Attorney will prepare a letter to the employer, analyzing the applicant's qualifications so that employers can make informed decisions.

Prepare and gather documents and evidence and establish an exhibit to show our clients are qualified for O-1 Visas.

Draft and review a detailed cover letter, stating each requirement and evidence in showing that our clients are qualified for the visa application.

Finalize and submit the application package for our clients to review prior to filing the application.
If you feel that you may be qualified for an O-1 Visa, you are invited to contact our office for more information. Our Houston Immigration Attorneys will be more than happy to assist you on the phone and schedule an appointment for a personal consultation.
DISCLAIMER


Immigration Law is a vast area of law and requires an immigration attorney with years of experience to understand the intricacies of the Immigration & Naturalization Law. In addition, the USCIS and U.S. Consular Offices are keen to scrutinize the Applicants' qualifications under O-1 Visas, especially the O-1 Visa Support Letter. Although the Support Letter is not required, we find that it is essential to receive favorable adjudications, such as letters from a nationally or internationally recognized organization. Please contact the Houston O-1 Visa Attorneys and the Houston O-1 Extraordinary Ability Visa Lawyers to ensure proper documentations to show that the foreign national does not have the presumed "immigrant intent." Please callthe Houston Immigration Attorneys and the U.S. Texas O-1 Visa Immigration Lawyers at the Law Offices of Steven Tuan Pham. today at 713-517-6645 or complete our Contact Form.
Serving Clients in Houston, West Houston, Southwest Houston, Sugar Land, Katy, Copperfield, Memorial, Spring, Northwest Houston, Northchase, Spring Cypress, Champion Forest, The Woodlands, Kingwood, Humble, Lake Houston, Midtown, Memorial, West Oaks, Royal Oaks, Clear Lake, League City, Westchase Business District, Harris County, and Galveston County.